For some of us, our schedules aren't the typical 9-5. My husband and I are both chefs and have worked odd schedules since we began dating 4 years ago. Many of our "date nights" have turned into "date mornings" due to our night time work schedules. When those late work nights happen to fall on holidays, especially Valentine's Day, we have to improvise by making breakfast our Valentine's Day meal. So for those of you who have a similar conundrum, or those who just want to make your special someone breakfast on Valentine's, this recipe is for you!
A typical breakfast for me is a berry smoothie, scrambled eggs and peppers, or one of my homemade protein bars. However, when it comes to special occasions, I love to indulge with eggs benedict, fluffy pancakes, or a delicious waffle. For this recipe, I decided to make extra indulgent waffles by adding smoky bacon, chopped peanuts, and tart blueberries. The blueberries compliment all the other ingredients by adding bright flavor and color, rounding out the dish to make the perfect waffle!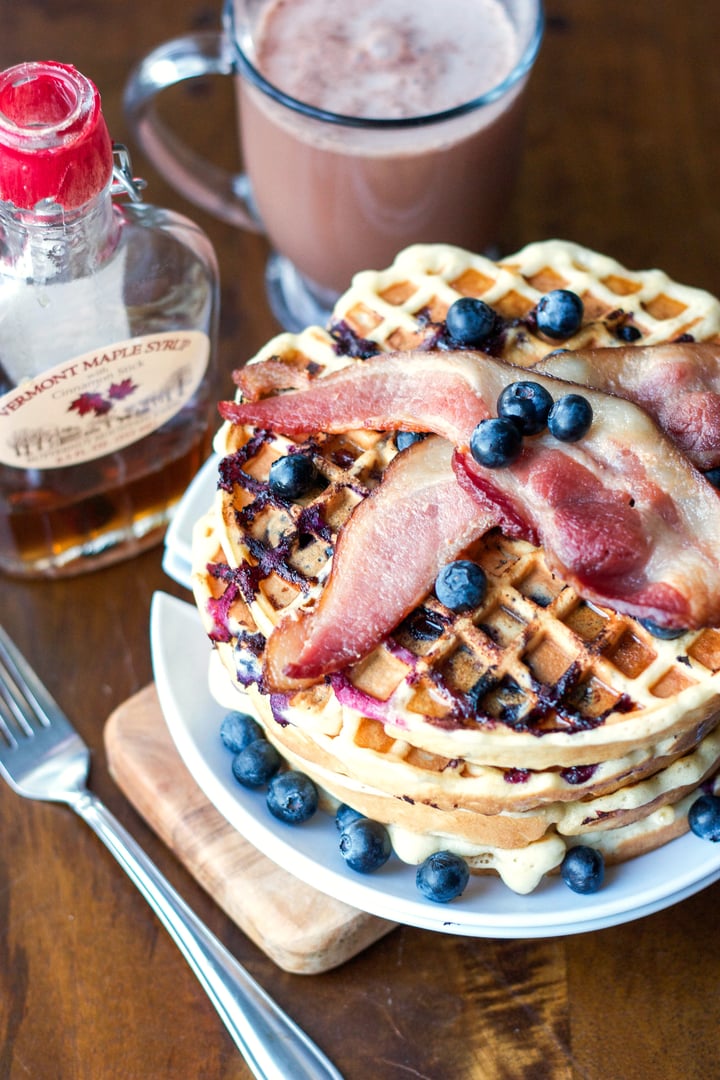 Ingredients (makes 5 belgian waffles)
1 package (7g) instant yeast
1 ½ cups milk
2 ½ cups whole wheat pastry flour (or can use All Purpose flour)
1 stick butter, melted
2 T dark brown sugar
2 tsp cinnamon
1 tsp vanilla extract
1 tsp salt
2 whole eggs
½ tsp baking soda
1 cup California Giant blueberries
1 cup roasted and salted peanuts, chopped slightly
Maple syrup
Directions
In small pot, heat milk until warm to the touch (or can microwave for approx 1 min). Whisk in yeast package and allow to sit for 5 minutes. Meanwhile, in large bowl, mix together flour, sugar, cinnamon, vanilla, salt, and melted butter. Whisk in milk/yeast mixture until well incorporated. Cover with plastic and allow to rise in refrigerator for approx 1 hour.
In large saute pan, cook bacon until crisp. Once bacon cool to the touch, crumble into bite size pieces.
Beat together the eggs and baking soda and whisk into the flour mixture until well incorporated.
Heat waffle iron on high and spray with nonstick or use excess bacon grease to grease waffle iron. Add suggested amount of batter according to your waffle iron instructions (approx ½ cup). Sprinkle bacon pieces and fresh blueberries on top before closing waffle iron. Close the waffle iron and cook for approximately 2 ½ minutes or until golden brown. Remove waffles from iron and shingle out onto a platter or stack high.
Top with maple syrup, salted peanuts, and fresh blueberries.
*If making multiple batches of waffles, you can keep waffles warm by preheating your oven to 200 degrees and placing waffles on a baking sheet in oven until ready to eat