Yes, yes, we know….it's a new year and we need to watch what we eat. However, I feel that "new year, new you" meal ideas usually look boring and use the same old ingredients! Hence, why most people don't stick to their resolutions. That doesn't have to happen to you! My new year's resolution was to think outside the box and use combinations I've never done before - that way I never get bored! Plus, this makes eating healthy more enjoyable, instead of a chore.
Berries are typically used as easy snacks, or combined with sweet treats, but how about a savory dish? My first idea was to turn a typical chicken salad into something more unique and craveable, and I did just that! Instead of using romaine as the usual raw salad base, I grilled it, creating a whole new flavor. Then I paired it with a blackberry mustard vinaigrette and it came out great! Topped with rosemary lemon chicken, shaved radish, and lots of fresh blackberries, the combination gives your taste buds a nice kick. Whether you're making an easy lunch or entertaining guests for a dinner party, people are sure to be impressed with these unique flavor combinations. Give it a try!
**Side note: Lorin has been a professional chef since she graduated from the University of Texas in 2010, with a degree in nutrition. Her passion for food led her to cook in some of the best restaurants in the country, including the famous French Laundry in Napa Valley. After years in the restaurant industry, she wanted to take her techniques as a chef and apply them to healthier foods to make well balanced meals taste delicious! She began her blog, A Modern Muse, as a platform to share how she lives a well-balanced life, sharing recipes, photos, and how she stays healthy while still finding time to indulge. After living in NYC for 3 years, she has recently moved back to the Napa Valley with her husband. Follow her on Instagram at @LorinMichel!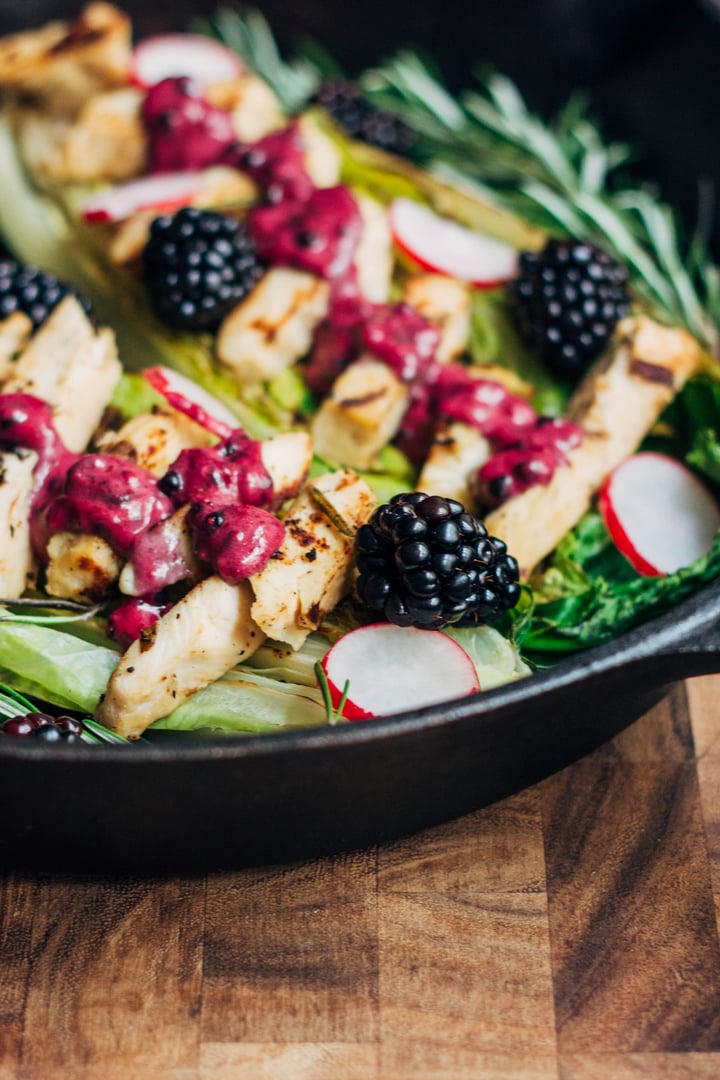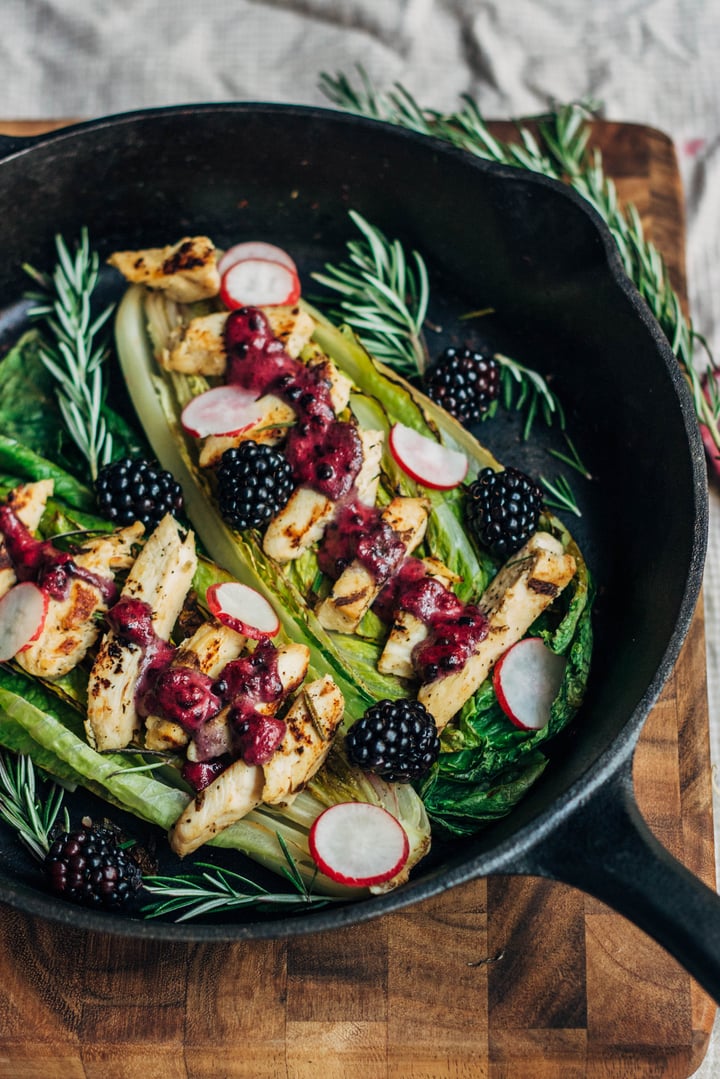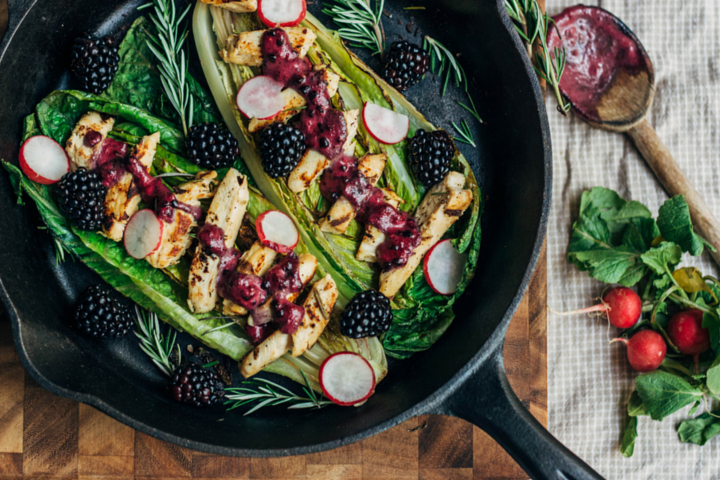 Serves 2
Ingredients:
1 head romaine lettuce, cut in half lengthwise
2 chicken breasts
1 cherry belle radish, sliced thin (I use a mandolin)
3 T extra virgin olive oil
For vinaigrette:
2 T extra virgin olive oil
2 T blackberry puree (approx 6 blackberries, blended)
2 T red wine vinegar
2 T Dijon mustard
1 T whole grain mustard
Salt & pepper to taste
For chicken rub:
4 sprigs rosemary, chopped finely
Zest of 1 lemon (use micro plane or chop finely)
Juice of half a lemon (4 tsp)
1 T extra virgin olive oil
1/8 tsp Fresh cracked pepper
½ tsp salt
Directions:
Mix together ingredients for chicken rub and rub evenly over chicken breasts. Allow chicken to marinate and come to room temperature (approx 20-30 minutes). For vinaigrette, whisk all ingredients together and set aside. Preheat cast iron pan or grill. Once hot, add 3 T extra virgin olive oil and allow oil to warm. Add marinated chicken breasts and allow to sear and get a nice golden crust on one side (approx 2 minutes). Flip and continue cooking until chicken bounces back when touched firmly at its thickest part (I like to sear mine, flip and cook for about another minute, then finish in a 400 degree oven for approx. 5 minutes depending on the thickness of the chicken).
Remove chicken from pan/grill and allow to rest for 5 minutes before slicing (helps chicken finish cooking in the middle and for juices to stay in chicken when sliced). After chicken is removed from pan/grill, place romaine face down in pan and begin to cook the face of the romaine (if using the cast iron pan, wipe out excess oil/juices from the chicken so will allow romaine to char instead of steam). Once romaine has gotten some color (approx. 1 minute), remove from pan and allow to cool slightly.
Thinly slice radishes to garnish (if doing ahead, place in ice water to keep crisp). Assemble dish by placing romaine face up on plate, topped with sliced chicken, drizzle with vinaigrette, radish slices, and fresh blackberries! Enjoy!
Let us know what you think in the comment section below!