Eight Ways to Reduce Food Waste Using Berries
Cindy | July 21, 2015
It's the most expensive food in the world - the food you buy but never use. Estimates out there suggest that as much as 40% of our fresh produce winds up, not in our stomachs, but in the trash. While fresh berries are the best (I'll admit, I'm partial!) they do go bad, like all fresh produce. To cut down on waste and get more enjoyment from your berries, try these eight easy tricks.
Smoothies- Chocolate blueberry smoothies, blackberry pineapple smoothies, green smoothies… When it comes to berry smoothies, the possibilities are endless! You can mix leftover berries with all sorts of flavor profiles, including leafy greens for added nutrients or chocolate for a sweet treat.

Spritzers- Who doesn't love happy hour? Try muddling leftover berries and herbs to create a refreshing cocktail! I just happen to have an excellent recipe right here.

Salads- Go savory with your berries and add them to a salad! Try strawberries with goat cheese and a mild lettuce like Bibb, or even our Blueberry and Gorgonzola Salad with Mixed Greens.

Salsas- We've all heard of mango salsa by now, but have you ever tried blueberries with cilantro or raspberries with lemongrass? What about strawberries with jalapenos? There are so many delicious combinations that will add a unique twist to your next taco night, so get creative with your food processor and enhance your homemade salsas!

Sauces- Have you ever had hot wings with a raspberry chipotle sauce? What about banana oatmeal pancakes with a warm berry sauce? Full of natural sugars and acidity, berries are perfect for reductions, glazes, and sauces! Match them with your favorite foods and see your leftover berries perform in a whole new role.

Freeze them! - Sure fresh is best, but frozen berries are better than no berries (or berries that wind up in the trash). Save them for later to use in sauces and smoothies, or simply add a few of your favorite berries to the ice cube tray for a sweet and healthy kick to your next glass of water.

Dry them! - There's no need for a fancy dehydrator, just your oven and some simple prep! Once dried, berries will last for a couple months (stored in an air-tight container) and are a great addition to cereals both hot and cold, trail mixes, or reconstituted later for use in sauces, smoothies, etc.

Cream Cheese and Butter- For a new twist on your morning toast or bagel, add berries to room-temperature cream cheese or butter, then mix, chill, and enjoy! This is such a simple way to use leftover berries, all while changing up your breakfast routine.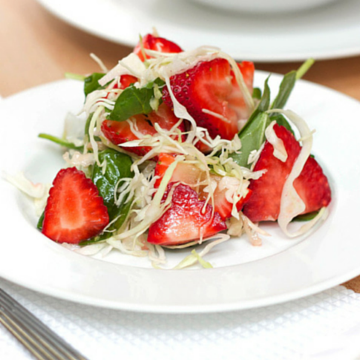 For more berry recipes, click the image above!