Blackberry Crêpe with Whipped Cream & Candied Pecans
Kristin | February 7, 2018
Valentine's Day is next Wednesday so why not kick off this love filled week with a Sunday brunch for you and your honey? Mimosas are obviously a must but I have to recommend this blackberry crêpe if you're looking for a breakfast sweet!
Strawberries and cream are always a crowd favorite but this blackberry and whipped cream crêpe takes the cake. I can't get enough of this divine dish. Layers of thin fluffy crêpes topped with dollops of smooth whipped cream and fresh blackberries – yum!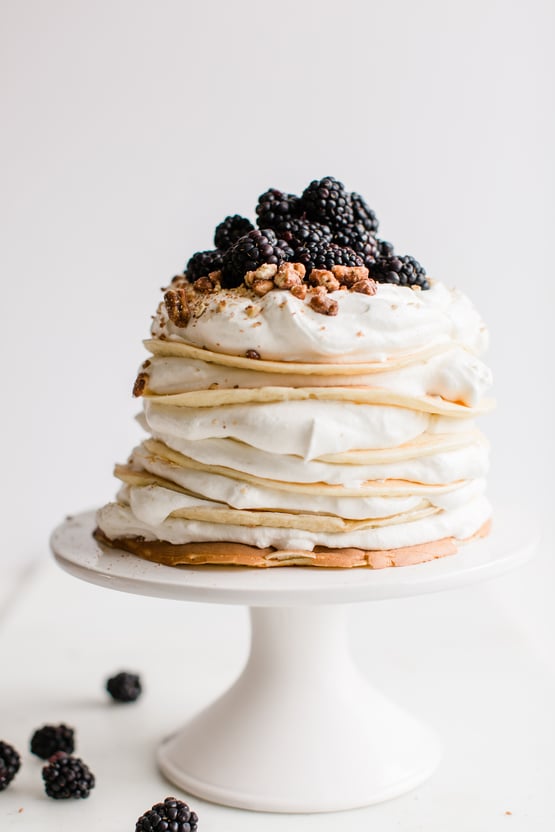 This February we're taking time to celebrate the special ladies in our lives with a girls only Galentine's Brunch. Shower your favorite girls with love, white chocolate champagne strawberries and of course – this blackberry and cream crêpe! We're sure this crêpe is the perfect treat to make your Galentine's Day Brunch oh-so-sweet.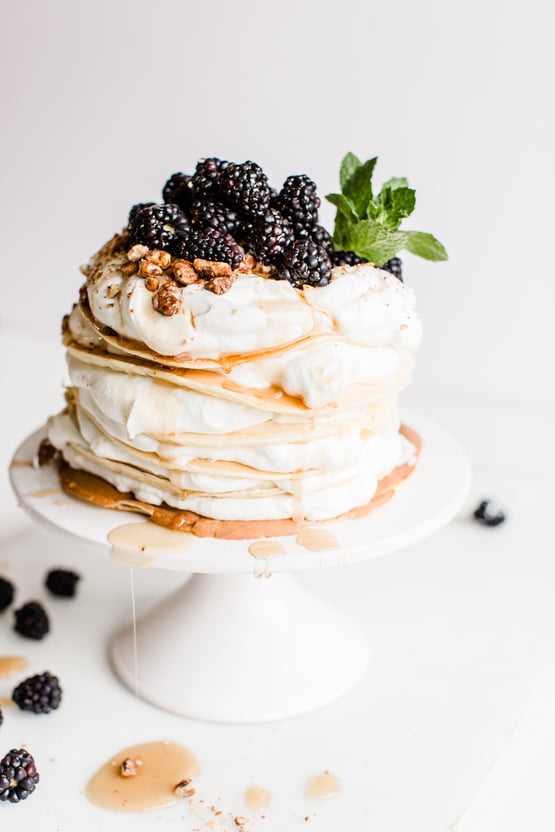 The best part about this crêpe is you can mix and match your toppings. Blackberries are delicious but can you image blueberry and cream crêpes? I'm drooling just thinking about it! And if you're not a huge syrup fan than you should absolutely try drizzling honey a bit of honey of this easy dessert or sweet breakfast treat.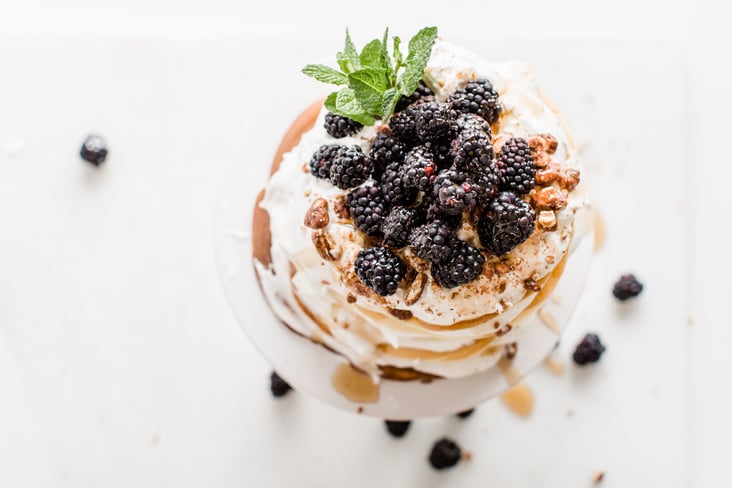 Cheers to a week of love, fabulous food and fresh berries! How do you plan on celebrating Valentine's week? Are you hanging out with your sweetheart or are you spending time with your favorite ladies? Let us know in the comment section below!
Ingredients:
For crepe:
1 cup all purpose flour

2 eggs

½ cup whole milk

¼ cup water

¼ cup blackberry puree (whole California Giant blackberries, blended until smooth)

2 T unsalted butter, melted

2 T sugar

1 tsp vanilla
For topping:
1 cup heavy cream

⅓ cup powdered sugar

1 cup candied pecans, chopped

1 cup California Giant blackberries, quartered
Equipment needed:
Blender

2 oz ladle or measuring cup

Flat metal spatula

Nonstick saute pan

Hand or stand mixer with whisk attachment
Directions:
In a blender, blend together all ingredients for crepe for 20 seconds. Turn off the blender, scrape down the sides with a rubber spatula, and then blend for 30 seconds longer.

Set aside

In a medium mixing bowl, whip together the whipping cream and powdered sugar until soft peaks form. Set aside in refrigerator.

Heat a nonstick skillet over medium high heat. The tricky part is making sure the pan is not too hot, but not too cold. Try a tester first!

Adjust the heat of the pan if necessary.

Repeat with all of the crepe batter until about 8 crepes are made.

Top with whipped cream, fresh blackberries, and lots of chopped candied pecans!
Keys to the perfect crepe:
Make sure you actually measure only 2 oz! Too much it will be too thick and cake like, too little it will be way too thin and will fall apart when you try to flip.

Pour the batter in the very center of the pan, and then IMMEDIATELY start tilting the fan back and forth, forwards and backwards until the crepe covers the flat part of the pan (not up on the sides). You should hear a slight sizzle sound when you put it in the pan. They key is that the crepe batter is super thin and evenly spread!

Cook for 1 ½ minutes on the first side

Gently lift up one side of the crepe with the spatula. The crepe should have some light brown spots all over. If it doesn't, your pan is a little too cold.

Flip the crepe using a metal spatula or your fingers.

Let cook for 1 minute longer.

Remove crepe with a spatula to a plate.

Voila! The crepe should be thin and have light golden spots on either side, but still be soft and fluffy.