Bastille Day Strawberry Crepes
Cal Giant | July 13, 2017
July 14th is Bastille Day and with this French holiday comes more red, white, and blue celebrations of liberty, equality, and fraternity. In France, the storming of the Bastille is celebrated with street festivities full of friends, fireworks, and eating French delicacies. Our favorite Bastille Day treat is the decadent strawberry crêpe, so we thought we'd tell the tale of how we imagine the strawberry crêpe came to be. So, pull out a fork because we are about to dish up a sweet story!
Storytelling is full of iconic duos like Romeo and Juliet, Bonnie and Clyde, and Thelma and Louise… but there is one duo we can't get enough of: Monsieur Crêpe and Mademoiselle La Fraise! (That's crepes and strawberries, in case you haven't caught on yet!)
Once upon a time, Monsieur Crêpe was born from the peasant Buckwheat Family in the Brittany region of France. As time passed he rose from humble buckwheat and filled himself with finer things like white flour and sugar, but he still felt like he was missing something inside. That is until a daring French spy smuggled back a sassy Chilean flower named Mademoiselle La Fraise. Monsieur Crêpe heard about her through the grapevine, as he often enjoyed the company of wine, and to his delight the King of France sent Mademoiselle La Fraise to the gardens of Brittany where they started their century's long love affair. In fact, their love braved all the way through the tumultuous French Revolution and they celebrated together the hard fought victory. But tragedy struck in the 19th century when Mademoiselle La Fraise was beckoned to the freedoms of America and left her love behind to flourish in the state of California. While she has thrived here in the fertile land of the free, she misses her French beau.
This is where we need your help! Bastille Day is all about bringing people together to celebrate French culture and resilience, and what better way to do that than by bringing two things together that were destined to be? It seems to us that strawberries and crêpes were always meant to meet under the fêtes and fireworks of Bastille Day. Below is a recipe that can only lead to matchmaking success. And to toast our sweet victory we'll need a little bubbly, so don't forget this sparkling champagne strawberry spritzer!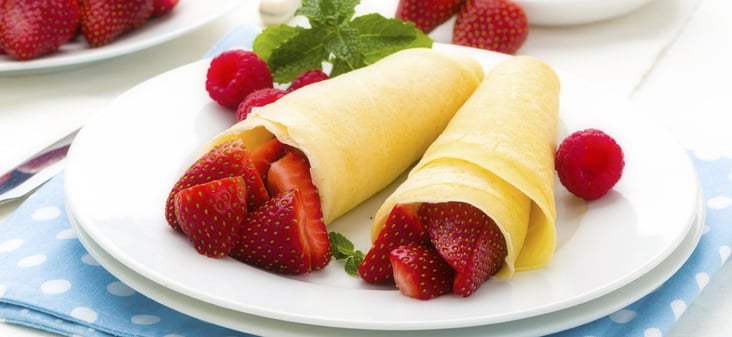 Ingredients:
3 eggs

1 teaspoon salt
1½ teaspoon sugar
1 cup flour
2 cups milk
4-5 tablespoons butter
2 pints California Giant Strawberries
2 tablespoons sugar to sprinkle
Directions:
Combine eggs, flour, salt, and sugar to make a paste.
Melt butter and add to the paste, then slowly add the milk.
Let sit in refrigerator for 1 hour.
Clean strawberries.
Pour crepe batter on a hot non-stick pan.
Once the edges turn brown flip the crepe.
Cook an additional 1 minute and slide onto a plate.
Fill center of crepe with strawberries and top with whipped cream or sugar.